Why Not To Use An Office Shredder
Most Maryland organizations are aware of the importance when it comes to safely disposing of business records. It's simply critical that any records containing information about your customers, employees, marketing plans, and other private details are securely shred before disposal. Why? Confidential business documents contain valuable details and if disclosed unknowingly, could lead to substantial consequences for your organization's reputation and its ability to grow as a business.
You might be wondering why an office shredder doesn't offer the same level of security as a document shredding company. While taking a staff member to look after your internal paper shredding needs may seem like a practical and effective answer, it can result in more problems than it's worth.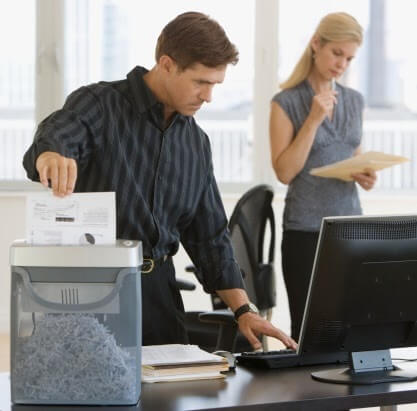 Why Should You Avoid Office Shredders? Here are 5 Disadvantages
It's Costly: When turning to your office shredder for ongoing document shredding, you'll find that your costs will actually increase over time, more so than if you were to outsource this job to professionals. When you consider operation costs, maintenance, and electricity, plus the employee time that's needed to complete the task, what you thought was saving you money is actually doing quite the opposite. A professional shredding company like Chesapeake Paper Systems in Maryland is happy to provide you with savings that are intangible, allowing your team to focus on the job duties they were hired to perform in the first place.
Shredding Isn't Certified: Unlike in-house document shredding, a professional document shredding company also comes with certified proof after each shred job, which outlines all aspects of the destruction process that were carried out securely and in compliance. When paper shredding is completed with an office shredder, it's rarely recorded. As a result, there is no guarantee that the shredding was performed efficiently and in accordance with privacy legislation. This could cause potential issues down the road should your office be audited. You may even experience further problems if the in-house operator is accused of handling a document incorrectly or violating regulations set out under key industry legislation, such as FACTA/HIPAA. For your security, Chesapeake Paper Systems in Maryland will provide safe and reliable document shredding solutions that follow a strict chain of custody.
Lack of Background Checks: Nobody wants to believe that their employees are untrustworthy, and asking them to shred documents may seem like an easy enough job, correct? It's important to remember, however, that chances are they were not screened in the same manner that professional shredding specialists are which could be bad news. Unfortunately, employment fraud is on the rise and it can be a risky decision to task one of your employees to be responsible for such a task. The professional team at Chesapeake Paper Systems places all specialists under a criminal record check, as well as a detailed background check prior to hiring. Our professionals consist of skilled, highly qualified individuals that have extensive experience in providing safe and secure document shredding procedures.
Destruction Isn't Monitored: when shredding in-house, it can be challenging to have an additional staff member witness the destruction take place, as this removes them from productive business duties, and the majority of companies can't afford to do this, nor want to. When an employee isn't monitored appropriately throughout the shredding procedure, it's fairly easy to lazily toss files into the garbage can instead, simply due to convenience. This act is a serious security threat to your organization and one that shouldn't be taken lightly. When you partner with Chesapeake Paper Systems, we welcome and encourage you to witness your content being destroyed from the beginning of the process through until completion. Our mobile document shredding services give you the opportunity to view the entire shredding process for assurance and peace of mind.
Reduced Security: Document shredding providers such as Chesapeake Paper Systems supply your business with lockable security containers discouraging any unauthorized access to your sensitive records. All sensitive material stays 100% secure until containers reach capacity and are ready to be collected for emptying. These containers are great for deterring prying eyes from viewing information that's deemed private. Turning to a professional shredding provider also contributes to involvement in smart document disposal among your employees. The shred containers serve as the perfect reminder to secure any sensitive documents that are no longer needed, rather than tossing them carelessly in the trash. There is little security with an office shredder because sensitive documents are often still placed in piles on desks, or situated by the printing station out in the open. This exposure could lead to lost or stolen records, which could negatively impact your business.
Trust The Professionals
As professionals, we know how to keep your information safe from information theft and will keep you in compliance with the regulations. Contact us to arrange shredding when you need it!