We Guarantee Your Data Will Be Unrecoverable
When it comes to getting rid of your unwanted electronics and data, don't trust just anyone to get the job done.
Today, it is very easy for would-be thieves to take your personal information and data and use it against you. Whether this is sensitive company information or your customer's personal data, it is always necessary to destroy it in a manner that guarantees 100% confidentiality, rendering data unrecoverable. When you choose our team your data will be just that; unrecoverable, and that's the goal you need to have.
How It Works
Our team will come  directly to your business in Baltimore, Washington and the surrounding areas, to handle the data destruction on-site. The process takes only six seconds and, at that point, the data is completely destroyed, giving you total peace of mind.
First, we will gather the necessary serial numbers for your records and then we'll destroy the material at your location. If you wish, you are welcome to watch the shredding process as it occurs.
What Do We Destroy?
We can provide this service for most types of electronics such as hard drives, smart phones, zip drives, backup tapes, DVDs, and CDs.
Turn to our reliable, dedicated professionals for fast and, most importantly, secure data destruction. Talk to us today about just how easy and affordable data destruction can be.
Why Hard Drive Destruction?
As a company owner or manager, you may be wondering why you should be turning to data destruction services. The professional and reliable data destruction services we provide at Chesapeake Paper Systems offer numerous benefits.

Unreadable Data
Our data destruction process completely eliminates the chance of anyone gaining access to and reading your data. Chesapeake Paper Systems ensures your data is not readable. First, our experts copy any serial numbers for your records. Next, we transfer the storage devices into the mobile trucking unit. The data destruction process takes seconds.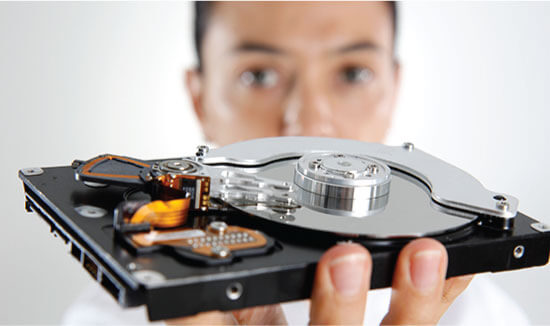 Free Up Office Space
Storing hard drives, CD's, DVD's, zip drives, mobile phones and other storage devices takes up storage space. Using a data destruction company to remove these unnecessary items from your office allows your company to use the space for more valuable pursuits.

Stay Compliant
Improper disposal of confidential information may cost your company legal fees and fines. Chesapeake Paper Systems is a member of the National Association for Information Destruction. We fully comply with all state and federal laws regarding data destruction including HIPPA, FACTA, Gramm-Leach-Bliley, and Sarbanes-Oxley. A trusted member of NAID
NAID AAA Certified
We are a certified member of NAID (National Association for Information Destruction) thus we maintain the highest industry standards while meeting all the federal and state requirements.
This company is excellent.
"Communication was great. They offered me a time window of 10-12pm, showed up at 10:24am and were done and gone by 10:39am. They were super fast and efficient. I had approximately 20 boxes that needed shredding. I was very impressed with the whole experience. Joe and his helper were very friendly and very professional. I would highly recommend them and this service."
"The entire process was smooth and professional. Phone calls were answered by the owner/manager promptly and changes to service requests were accommodated. The employee who carried out the paper shredding was extremely professional and efficient."
Contact us today and take an advantage of the ease and convenience of our services
Our knowledgeable staff will help determine a shredding program that meets your needs, schedule and budget.