We Will Keep Your Documents Safe!
For clients who choose a regularly scheduled service with us, we place secure locked bins and consoles throughout your office to safely collect your documents for shredding. This is offered at no extra charge to you.
Dispose of your documents into one of our secure containers whenever necessary. Our experts will arrive with our fully equipped mobile shredding trucks to empty your collection bins every day, weekly, or monthly, in accordance with your destruction needs.
Locked Bins
We offer 65 and 95 Gallon locked bins for those customers requiring a larger volume capacity for their secure containers.
64 Gallon
Dimensions: 41.5"H x 22.5"W x 28.25" D
Capacity: 200 lbs of paper or 64 Gallons
96 Gallon
Dimensions: 45.5"H x 26.5"W x 33.5" D
Capacity: 300 lbs of paper or 96 Gallons
Consoles
Our locking consoles fit nicely within your office space. They securely collect your documents until emptied by one of our professionals.
Dimensions: 35"H x 48.3"W x 16"D
Capacity: 80-100 lbs of paper or 30 Gallons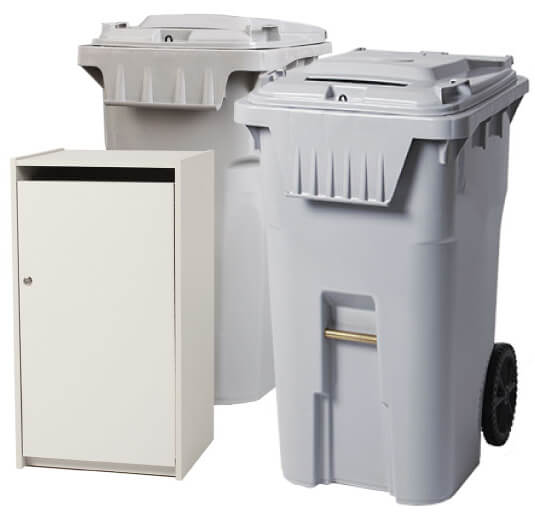 Why Use a Document Shredding Company?
Using professional document shredding company, Chesapeake Paper Systems provides you with many benefits.

Lower Employee Risks
An employee who accidentally throws a document in the trash, fails to shred, or leaves an important file out poses a risk. Chesapeake Paper Systems installs locked consoles. Your employees simply need to drop the documents into the console for professional shredding.

Saves Time and Money
Along with lower risks, our locked consoles are a cost-effective solution for your company. You do not need to pay an employee to shred confidential documents. Our Chesapeake Paper Systems document shredding professionals handle the entire process.

Secure Process
Locked bins are transferred directly to our mobile shredding truck, while our specialists shred all your confidential documents within minutes. You are welcome to watch the process to ensure the highest level of security.

Scheduled Services
Our Chesapeake Paper Systems offers scheduled document shredding services to fit your company's need. We can arrive every day, week, bi-weekly, monthly or as needed.
Environmentally Friendly
Chesapeake Paper Systems participates in recycling efforts. By securing recycling shredded documents, we do our part to preserve the environment. A trusted member of NAID
NAID AAA Certified
We are a certified member of NAID (National Association for Information Destruction) thus we maintain the highest industry standards while meeting all the federal and state requirements.
I had many questions.
"Joe came with the truck that handled all the shredding. He was very polite, patient and professional with me, given I had many questions, before and during the process. It was really fascinating to watch the hard drives being shredded via a video monitor. After Joe collected the shredded remains of the hard drives, he showed it to me. WOW! Even watching the paper shredding process was fascinating. JOB WELL DONE!!! I definitely will be recommending them to anyone who asks me."
Contact us today and take an advantage of the ease and convenience of our services
Our knowledgeable staff will help determine a shredding program that meets your needs, schedule and budget.