We are experts in data management and ensure your records are safe.
As businesses grow,  the generation of records and documents also increases, requiring the services of external records storage companies.
Records management is challenging. The problems caused by having too many records available in an office can be solved by using Chesapeake Paper Systems storage facilities. Unless steps are taken to consider alternative storage options, efficiency in the office may be affected because the space available for the employees and clients will keep reducing. Not only that, but storing records on-site can cause frustration if employees are spending too much time trying to retrieve a specific record. It does not use employee time wisely, thus wasting valuable business hours that could be used for more beneficial purposes.
Why Store Your Records?
Let's face it – office space is expensive and it is getting even more so with each year. You could pay to store the boxes of files you need to keep in that high valued office space or you could choose a far more affordable option in storing your data, through using our team. You could turn to a self storage facility, but you would likely pay significantly high rates, and you have limited protection for your valuable documents and records going this route. In addition, you have limited access to what you need and when you need it at a self storage facility. At Chesapeake Paper Systems, we offer secure records storage options and resources, that allow you to access records whenever you need them.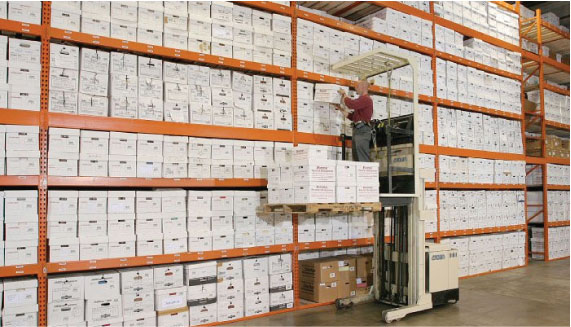 How Can Our Data Storage Services Help You?
Instead of spending more year after year on your data and records storage, put our team to work for you, after all we are the experts. We're different. We will help you organize your records in a logical manner to ensure you always have access to what you need. We make it our job to help you to find exactly what you need and want to have. We do this through a process of indexing and a bar-coded system. This approach creates retrieval and tracking of your records very efficiently. To make this possible, we have a facility that's equipped with state-of-the-art security, including video surveillance for that added protection. That's the confidence you need in a storage solution. More so, we use all of the latest fire detection and suppression systems.
Take a few minutes to consider how you are storing your data and files today. Is it the best option for your business? If not, we can help you.
Benefit From Records Storage
Why Use Off-Site Storage?
Along with freeing up office space, every Laurel, Maryland business has different reasons for making the final decision to store records off-site ranging from increased security, to organization and compliance purposes.

Security
Storing records off-site adds an extra layer of security to your confidential records. When a business has files in boxes or cabinets, the risk of exposing data is quite possible. Our facility is under 24-hour video surveillance to ensure your records are safe. If an employee fails to return a document, your company may be liable for the information falling into the wrong hands. Off-site records storage improves document management.

Prioritize Data
Records management improves with prioritizing the data involved. Before sending records to our off-site storage facility, the company's owner or supervisor will need to analyze your documents. The reviewing process allows your company to keep relevant paperwork readily available. Moving the outdated paperwork off-site allows for the most accurate information to remain in the office. In our off-site storage unit, Chesapeake Paper Systems carefully indexes and bar codes all your records.

Increase Office Efficiency
Our indexing and bar coding system increases office efficiency. Many company owners or supervisors believe keeping paperwork on-site is more convenient. Our system actually increases the speed in finding a document. An employee will not need to spend extra time searching through cabinets or unmarked storage boxes for valuable paperwork. The efficient tracking of the recorded indexed and bar code records allows for easy and efficient retrieval.
I had many questions.
"Joe came with the truck that handled all the shredding. He was very polite, patient and professional with me, given I had many questions, before and during the process. It was really fascinating to watch the hard drives being shredded via a video monitor. After Joe collected the shredded remains of the hard drives, he showed it to me. WOW! Even watching the paper shredding process was fascinating. JOB WELL DONE!!! I definitely will be recommending them to anyone who asks me."
Contact us today and take an advantage of the ease and convenience of our services
Our knowledgeable staff will help determine a shredding program that meets your needs, schedule and budget.